Green U is helping the University of Miami, and the community grow greener every day. Green U is focused on integrating greater environmental sustainability throughout our venues.
As a technologically advanced venue, the Shalala Student Center has digital signage to reduce paper waste. Automated energy savers that conserve energy by turning off lights in unused rooms.
All Student Center Complex venues are equipped with water bottle refilling stations, single-stream recycling, and recycled paper products. Additionally, the Shalala Student Center achieved Leadership in Energy and Environmental Design (LEED) Silver Certification.
Leadership in Energy and Environmental Design (LEED), a program of the U.S. Green Building Council, is the largest third-party verification for green buildings. It has quickly become the leading standard for environmentally friendly businesses worldwide. LEED-certified buildings use less water and energy, reduce greenhouse gas emissions, and help companies save money on operational costs. Projects pursuing LEED certification are rated on a variety of sustainability issues and afterward, are awarded a rating. These ratings vary from Certified to Platinum.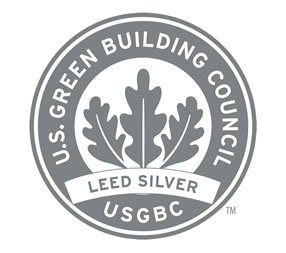 On behalf of the U.S. Green Building Council, the Donna E. Shalala Student Center has achieved the LEED Silver certification under the LEED for New Construction Rating System with a total of 35 points. LEED certification identifies the Shalala Student Center as a showcase example of sustainable design and demonstrates the University's leadership in transforming the building industry throughout South Florida. The Shalala Student Center has helped the local environment by reducing water usage by 50.8%. It has also reduced water runoff by 75.83% from calculated pre-project conditions. Throughout the construction of the Shalala Student Center, 12% of recyclable materials were used, thus reducing the amount of waste in our local environment. Also, 100% of the new wood-based building materials were certified under the criteria of the Forest Stewardship Council (FSC), an international non-profit organization that promotes responsible management of the world's forests. With this achievement, the University of Miami can look towards building a healthy, sustainable future.
To learn more about sustainability at the U click here.